25 Healthy & Easy Vegetarian Camping Meals
Going on a camping trip is a great way to refresh your soul and to connect with nature, to just sit back and relax! And what do most people love to do while relaxing? EATING!
Camping food usually consists of easy foods, like hot dogs, potatoes, different types of meat, and many other foods. But what if you're vegetarian? Camping is a great opportunity to explore some interesting and delicious vegetarian recipes that you have to try on your next camping trip.
In this article, we're going to give you a list of 20 vegetarian camping recipes that are not only super healthy, but also super delicious.
I'll show you how to feed your whole family with healthy vegetarian meals, while also making it accessible for campers.
Best Vegetarian Camping Meals
Grilled Vegetable Skewers
Ingredients: Bell Peppers, Mushrooms, Zucchini, Cherry Tomatoes, Herbs & Olive Oil.
How To Make
Simply take a skewer and thread the different vegetables onto it, then sprinkle as many herbs and olive oil as you'd like, personally I like to use basil or rosemary.
Place the skewers on grates and let them cook for 10–15 minutes, rotate them 45 degrees every couple of minutes to evenly cook all sides, leave it for as long as you'd like.
Chickpea Salad Wraps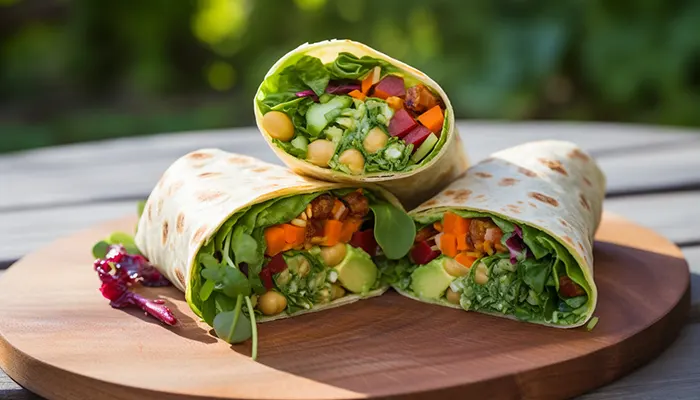 Ingredients: Chickpeas, Wraps, Tomatoes, Cucumbers, Spinach, Carrot, Cilantro
How To Make
In this recipe, all that matters are the chickpeas and tortilla wraps, while the rest of them are optional, you can build your own wrap from ingredients you like.
Choose all your favorite toppings, combine them with chickpeas and wrap it all up with a tortilla wrap.
You can also use some lemon-tahini or other sauces you like to add more personality to the dish based on your liking.
Quinoa Stuffed Bell Peppers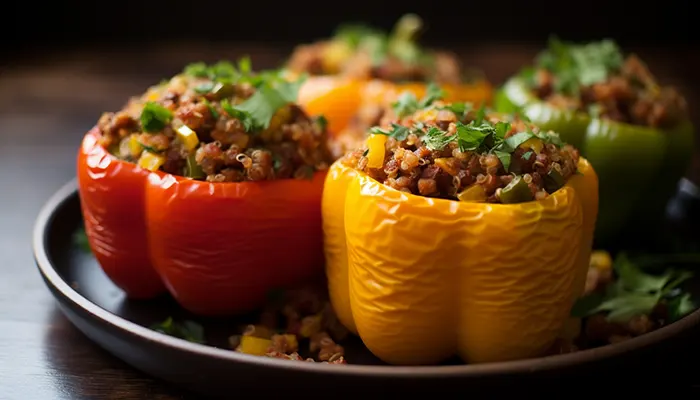 Ingredients: Bell Peppers, Quinoa, Corn, Black Beans & Spices.
How To Make
Cook the quinoa based on the instructions provided on the package, you can cook it at home and bring a container, or just cook it on the camp stove.
Mix the quinoa with the beans, corn and spice it up as you like, then stuff the mixture into a halved bell pepper, wrap in foil and cook until tender.
One-Pot Lentil Soup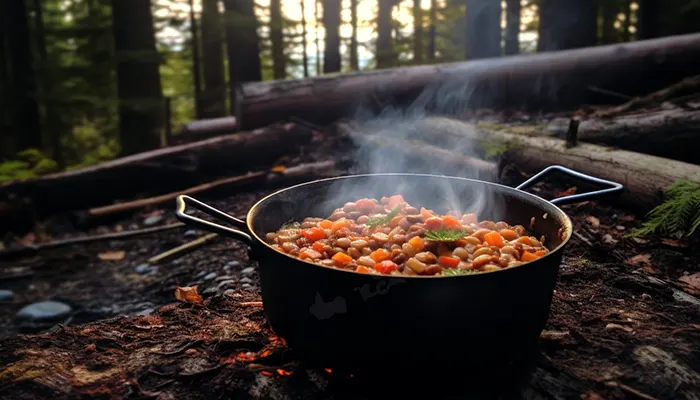 Ingredients: Lentils, Carrots, Onions, Celery, Veggie broth and different herbs.
How To Make
Dice your vegetables, in a pot mix with the lentils, fresh herbs and broth.
Simmer until the ingredients are tender.
Use condiments as you like, can also use some olive oil to taste.
Give it a stir every once in a while.
Campfire Veggie Tacos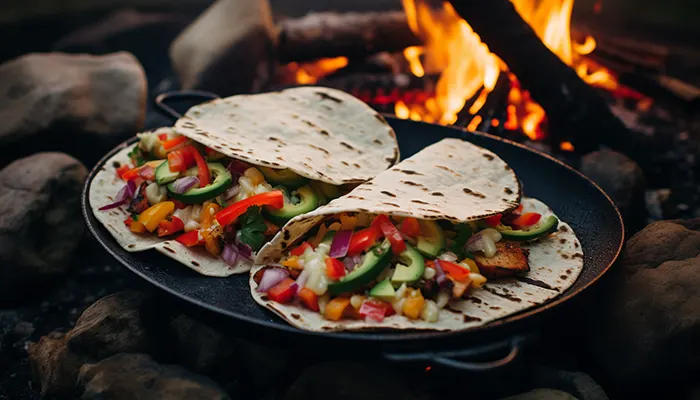 Ingredients: Tortilla Chips, Black Beans, Salsa, Avocado, Cilantro, Grilled Veggies & Lime Juice.
How To Make
Fill the tortilla with beans, salsa, avocado, grilled veggies, sprinkle cilantro and pour lemon juice on top, as much as you like, roll it up and enjoy.
This is a very popular vegetarian camping food and is liked by many!
Couscous Salad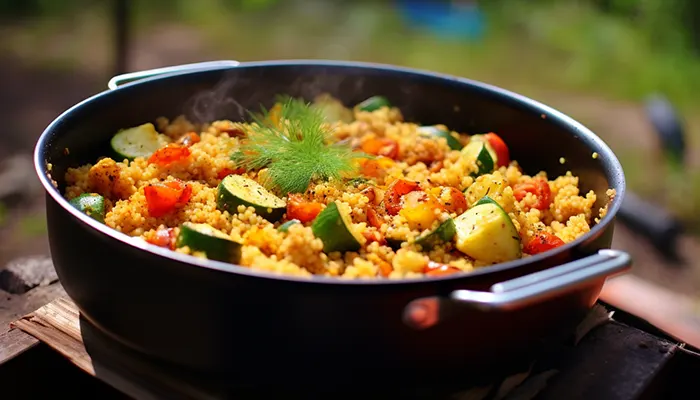 Ingredients: Couscous, Cucumber, feta cheese, Tomatoes, Lemon Vinaigrette & Herbs.
How To Make
Cook the couscous by manufacturer's instructions, cook before and store in a container or cook outdoors.
Combine the couscous, cucumbers (diced), tomatoes (halved or diced), feta cheese (crumbled) and finish with herbs. Pour lemon vinaigrette by your liking and serve.
Campfire Veggie Quesadillas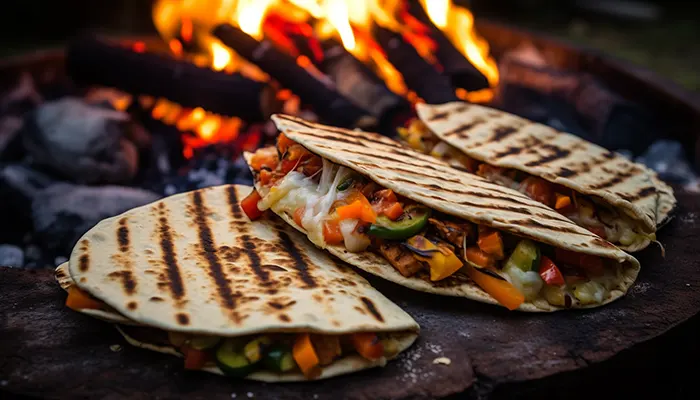 Ingredients: Tortilla, Cheese, Onions, Corn and Bell Peppers.
How To Make
Put a little butter or oil in a pan, preheat until very hot and quickly fry your bell peppers, onions and corn, done when tender.
Place a tortilla in another skillet, add cheese and top with the fried vegetables and cover with another tortilla.
Wait until the tortillas are golden and the cheese melts.
Lentil and Vegetable Foil Packets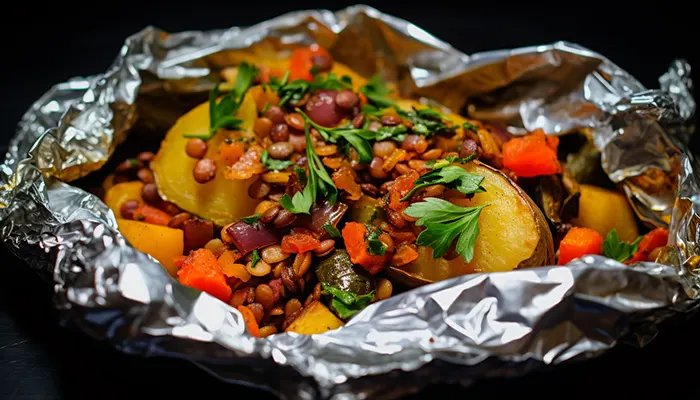 Ingredients: Lentils (cooked), Potatoes, Carrots (diced), Onions, Bell peppers.
How To Make
Place cooked lentils, carrots, potatoes, bell peppers, onions and herbs in a foil. Fold it and place it over the fireplace, until everything is cooked to tenderness.
Super easy and healthy lunch and dinner!
Greek Salad Pita Pockets
Ingredients: Pita (halved), Cucumbers, Tomatoes, Olives, Onion, Cheese (feta) and Olive oil.
How To Make
Slice cucumbers, tomatoes and onions, mix in a bowl with cheese, drizzle some olive oil on top and fill the pita pockets with it!
Campfire Veggie Stir-Fry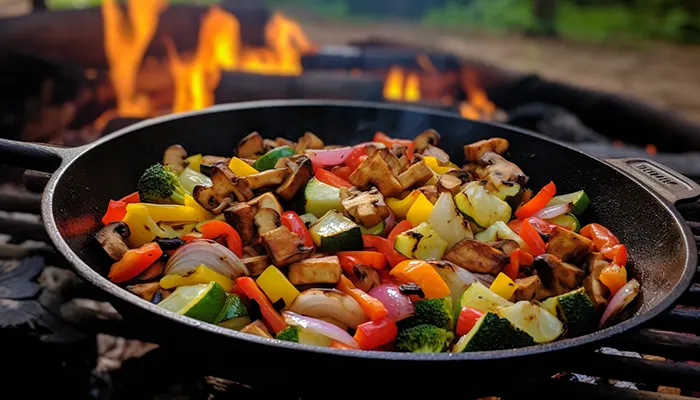 Ingredients: Broccoli, Bell peppers, Carrots, Peas, Mushrooms, Onions, Soy Sauce, Noodles or Rice.
How To Make
Fry your veggies and mushrooms until crispy and tender, add soy sauce and let it cook for a few more minutes.
Cook rice, rice noodles or rice and serve your stir-fried veggies over it.
Caprese Sandwiches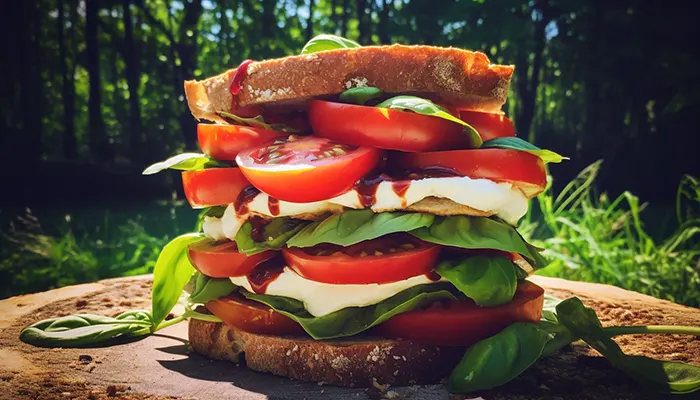 Ingredients: Bread (sliced), Tomatoes, Basil Leaves, Mozzarella Cheese, Balsamic Glaze.
How To Make
Layer the ingredients together (see picture), put them between your slices of bread, drizzle balsamic glaze on top and enjoy this simple and delicious vegetarian camping meal!
Sweet Potato and Black Bean Burritos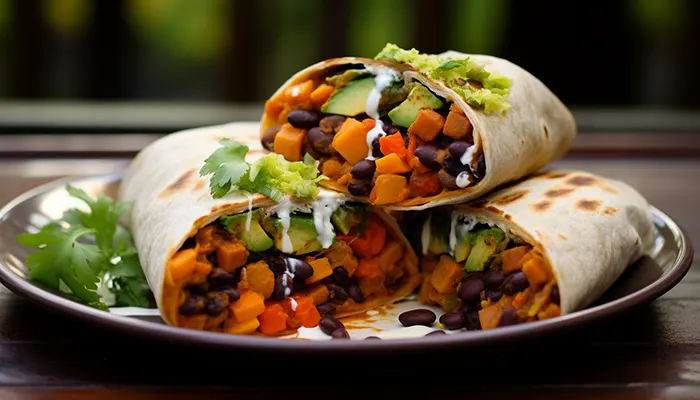 Ingredients: Sweet potatoes, tortillas, black beans, lime juice.
How To Make
Roast your sweet potatoes until tender, mash them and mix with black beans, lime juice and spices.
Warm tortillas in a pan and fill with the mixture, roll them up and enjoy your delicious burrito!
Campfire Veggie Burgers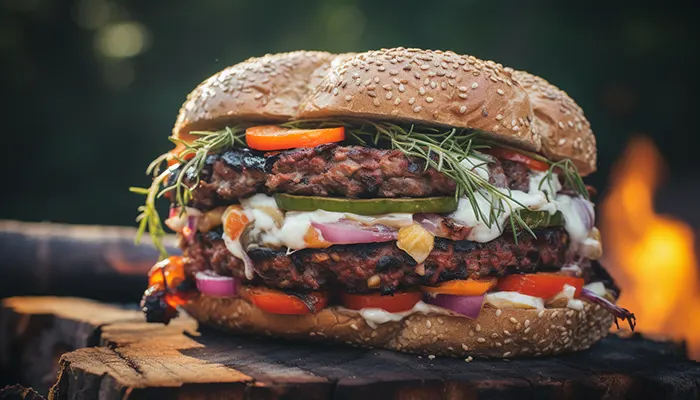 Ingredients: Buns, Veggie Burgers, Lettuce, Tomatoes, Onions, Pickles, Toppings you like,
How To Make
You can either make burgers at home by recipe or buy them, they are available in most grocery stores.
Grill the burger over the stove, sear the buns, add condiments onto the bun, layer the toppings and the burgers as you like!
You can also make some potatoes on the side for a healthy complete meal, and add a fried egg for extra taste.
Mediterranean Pasta Salad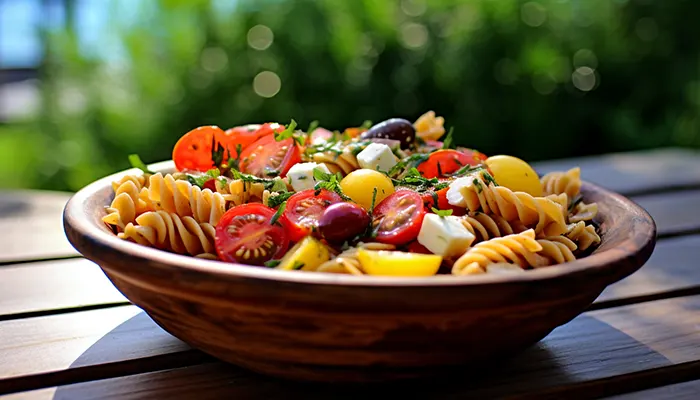 Ingredients: Cooked Pasta, Cherry Tomatoes, Cucumbers, Cheese, Olives, Herbs & Lemon Dressing.
How To Make
Mix tomatoes, pasta, olives, cucumbers, cheese and chopped herbs in a bowl. Drizzle lemon dressing and mix it well to make it as flavorful as possible.
Campfire Veggie Fajitas
Ingredients: Tortillas, Sautéed bell peppers, Salsa, Guacamole, onions, mushrooms, Fajita spices.
How To Make
Sauté the onions, bell peppers and mushrooms in a cast iron skillet until soft.
Sprinkle fajita spices and cook a little longer.
Warm the tortillas in a pan or the skillet, and fill them with the sautéed vegetables. Serve the meal with guacamole or salsa.
Quinoa and Black Bean Salad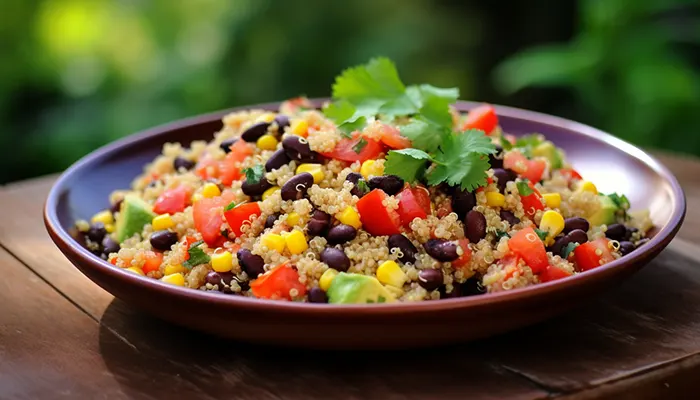 Ingredients: Black beans, quinoa (cooked), corn, bell peppers and lime-cilantro dressing.
How To Make
Combine cooked quinoa, black beans, diced bell peppers, corn, and drizzle with the cilantro-lime dressing.
Salad is best enjoyed chilled, offering a supremely refreshing experience.
Campfire Veggie Hash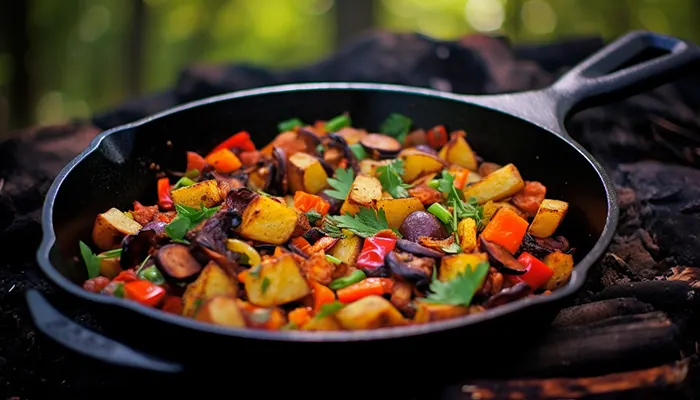 Ingredients: Potatoes, Bell Peppers, Onions and spices.
How To Make
Dice the potatoes and sauté them with the bell peppers and onions, until the potatoes are golden brown.
Season as you like and serve for breakfast or dinner!
Lentil and Spinach Curry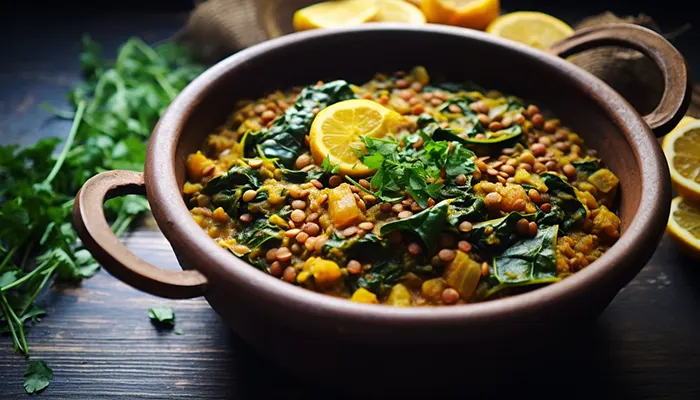 Ingredients: Lentils, coconut milk, spinach, curry paste, rice or naan bread.
How To Make
Combine the lentils, milk, spinach, curry and your beloved spices in a pot.
Simmer in a pot until the spinach wilts and flavors are melded together.
Serve curry with either rice or naan bread.
Campfire Veggie Pizza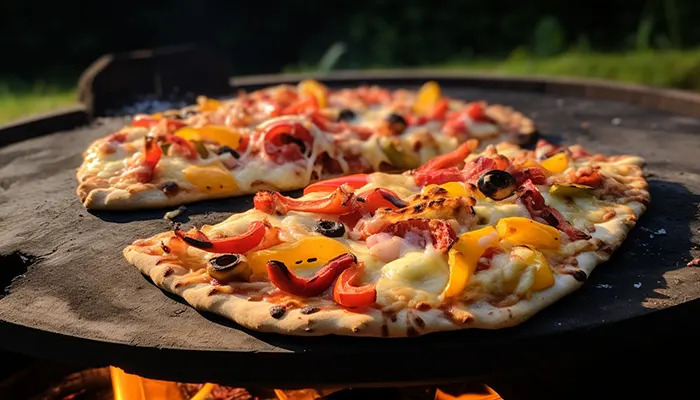 Ingredients: Pizza crust or pita bread, pizza sauce, cheese, your favorite vegetables, and herbs.
How To Make
Spread the sauce all over the pizza crust or pita bread, top with cheese, vegetables, herbs and spices.
Cook on the campfire until the cheese melts and the bread is crispy.
Grilled Halloumi Salad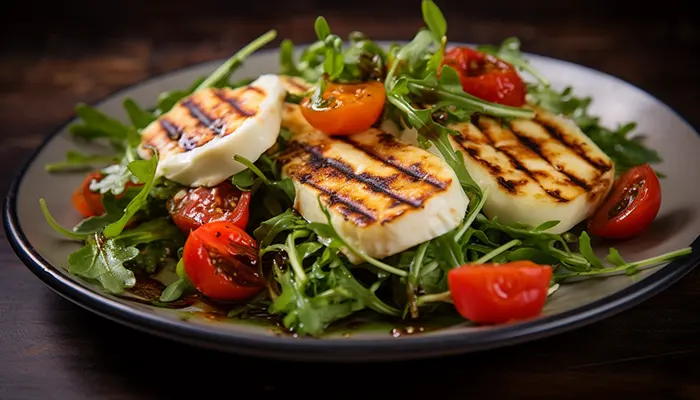 Ingredients: Halloumi cheese, cherry tomatoes, cucumbers, greens, lemon-olive oil.
How To Make
Grill the halloumi cheese, serve over greens, cherry tomatoes, cucumbers.
Drizzle with lemon-olive dressing for a protein-packed salad.
French toast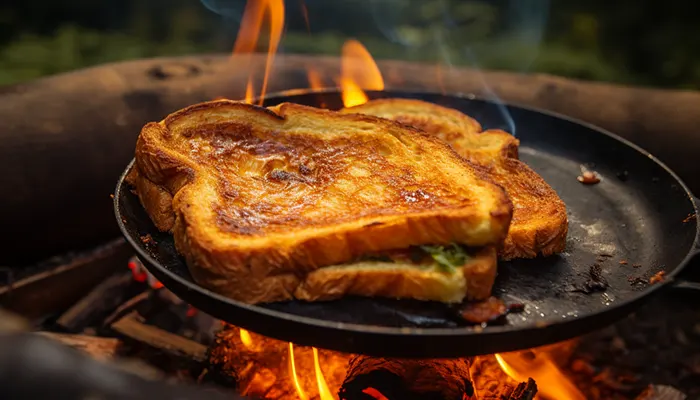 Ingredients: Bread, Milk, Eggs, Sugar, Butter, Vanilla Extract, Toppings (Banana, berries, chocolate)
How To Make
In a bowl, whisk eggs, milk, sugar and vanilla. Preheat your pan or griddle, add butter, dip slices of bread into the egg batter, coat both sides evenly. Place the coated bread on the griddle or pan, 2–3 minutes until golden. Serve with toppings such as strawberries, blueberries or bananas.
Chocolate Overnight Oats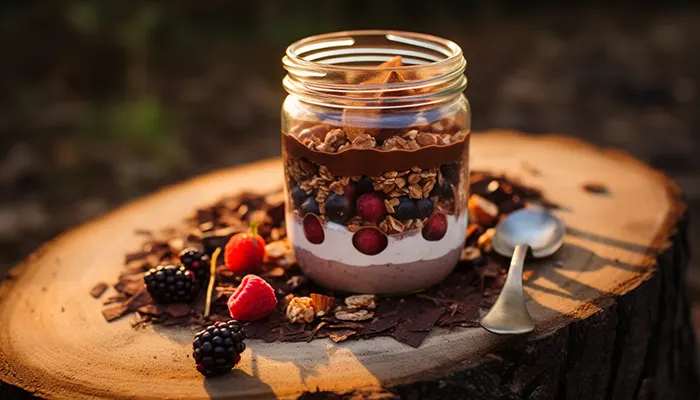 Ingredients: 1 Cup Oats, 1 tbsp Cocoa Powder, Chia Seeds, Maple Syrup, Vanilla Extract, Plant-Based Milk.
How To Make
In a jar or an airtight container, mix the oats, cocoa, chia and maple syrup or other sweetener of your choice, stir until they're well mixed.
Add milk and the vanilla extract, mix once again until everything is combined thoroughly.
Seal the jar or container with a lid and place it in a cooler, until the oats are soaked and soften, give it a good 4–6 hours.
Once the oats are soft, give it a taste, if it's too thick, then add some more milk.
You can add toppings that you like, like banana, strawberries, chocolate chips and more!
This recipe is not only vegetarian but also a vegan recipe.
Coconut Curry Soup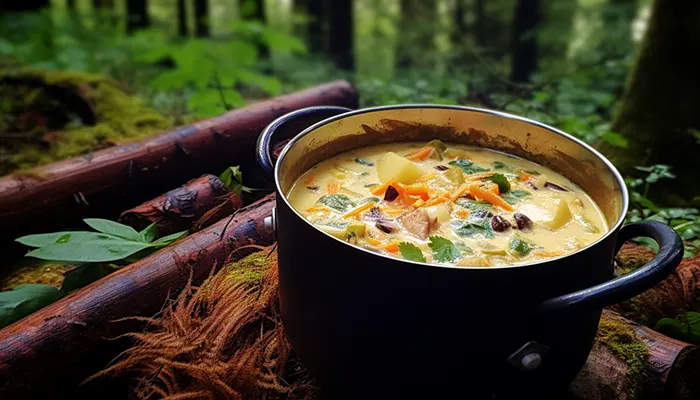 Ingredients: Green onions, Garlic (or garlic powder), Ginger, Curry powder, Coconut cream powder, vegetable broth, sweet potato, carrot, bell pepper, broccoli florets, spinach, mushrooms, soy sauce and fresh cilantro.
How To Make
Add 1 diced onion into a pot and sauté until translucent, add garlic, and ginger and cook for a couple of minutes, sprinkle some curry powder and coat the ingredients.
In a separate bowl, mix the broth with the coconut cream powder until it dissolves, and then pour the broth into the pot.
Add the sweet potatoes, sliced carrot, diced bell pepper, broccoli and mushrooms into the pot. Let it simmer for 15–20 minutes.
Throw in the spinach leaves and the soy sauce and cook for another 2–3 minutes. Add salt and pepper as needed.
Caprese Stuffed Portabello Mushrooms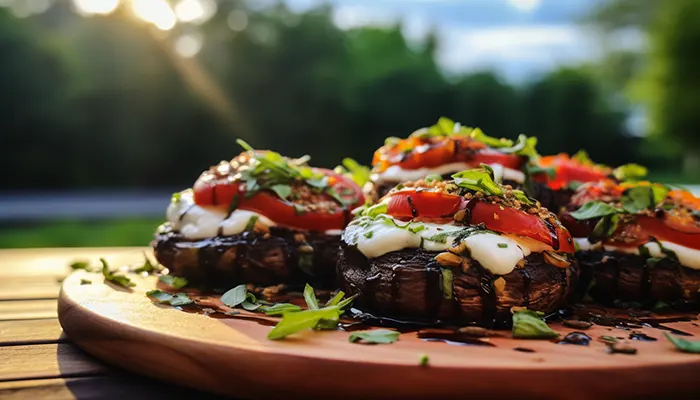 Ingredients: Portabello Mushrooms, Garlic, Tomatoes, Mozzarella Cheese, Fresh Basil.
How To Make
Clean the mushrooms and remove the stems and the gills using a spoon.
Combine garlic and cooking oil in a bowl and brush onto the mushroom caps.
Cook each mushroom on the grill or a pan for 3–4 minutes until they're soft.
While they're grilling, start filling them up with halved cherry tomatoes and fresh mozzarella cheese, sprinkle salt and pepper.
Grill them until the cheese has melted, take them off once they do.
On each mushroom, put some fresh basil and serve!
A basic recipe that is fun to make and delicious to eat.
Camping Veggie Frittata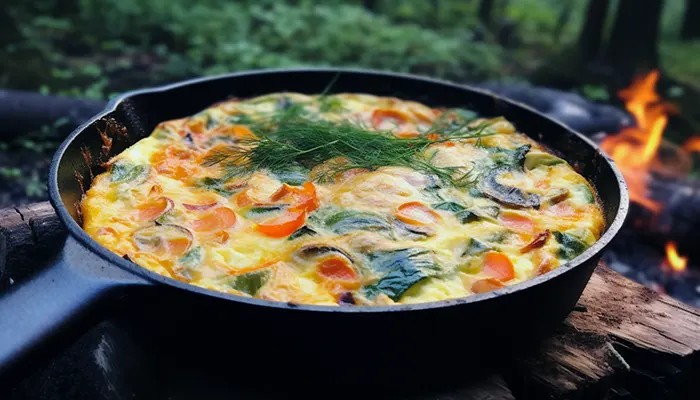 Ingredients: Cooking oil, Onion, Bell Pepper, Zucchini, Mushrooms, Cherry Tomatoes, 6 Eggs.
How To Make
Heat the oil in a pan or skillet, add the diced onion, zucchini, bell pepper, and mushrooms. Sauté for 7 minutes. Add cherry tomatoes until softened.
In another bowl, whisk eggs with milk, salt and pepper, and pour over the sautéed veggies.
Cover with a lid and cook or low or medium heat for 10–15 minutes, until the frittata is ready!
You can then use some fresh herbs like basil or parsley.
In Conclusion
Exploring vegetarian meals can be not only healthy, but also delicious and nourishing.
Eating vegetarian doesn't have to be boring or limited, and even on the contrary, it can be tastier to be a vegetarian than eating meat.
There are endless possibilities to what you can make while camping, keeping you energized and full.
In this article, we discussed different types of vegetarian camping recipes, from healthy breakfast, lunch and dinner ideas, to vegetarian snacks that satisfy your sweet tooth.
Hopefully, you've learned more about vegetarian camping recipes, and on your next camping trip you will try to make some of these delicious vegetarian camping meals.
Fellow campers, pick your favorite recipe, pack some fresh ingredients, make delicious vegetarian meals and, most importantly, enjoy a happy camping trip!
---
---
Guides
When it comes to going outdoors, especially in areas where you can run into…
August 17, 2023
Camping
There's nothing better than relaxing in a hammock on a sunny day, feeling the…
August 3, 2023